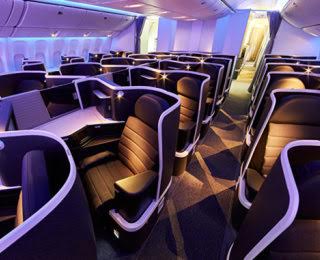 Virgin Australia is expanding its international operations in 2017, with the announcement yesterday that the carrier would be re-introducing its Melbourne to Los Angeles route, which was taken away in October 2014 in favour of their Brisbane to Los Angeles service (which at the time was only serviced by Qantas).
Since then, Qantas and United Airlines have had exclusive use of the Melbourne to LAX route, with Virgin's reintroduction to the market certain to shake things up, especially for business travellers. The route will be serviced by the airline's recently upgraded 777-300ERs, which offer one of the best Business Class offerings on the market, and with their direct aisle access for all seats in a 1-2-1 configuration (pictured above) considered superior to both United and Qantas, who are 2-2-2.
Virgin Australia Group CEO John Borghetti said, "In partnership with Delta Air Lines, we will soon offer 25 services each week from Australia to Los Angeles and remain the only trans-Pacific alliance to offer Business Class guests lie flat beds with direct aisle access on all services."
The also boast the largest in-flight entertainment screen flying the trans-Pacific route, the longest flat beds ("length of a queen size bed"), Luke Mangan-designed menus, a turndown service and a stand up bar.
The service will not be daily, however, with only five weekly services from 4th April 2017 – something which both United and Qantas do offer; United on their Dreamliner service daily, and Qantas daily with the A380 – plus two more flights with their 747s.
The news coincides with Air New Zealand's announcement that they'll be opening a brand new Airport Lounge at Melbourne International in early 2017, which will service Virgin Australia's premium travellers and Gold/Platinum Velocity card holders.
To enable the introduction of services between Melbourne and Los Angeles, the airline have announced they will reduce their Brisbane to Los Angeles flights from daily to six per week as of 7th April 2017. VA7 will no long run on Mondays and VA8 will no long run on Fridays.
Interestingly, the change in flight schedule will now see their Sunday VA7 flights break the norm for the trans-pacific route, which traditionally would have you depart in the morning and arrive in the morning on the other end (which always makes it difficult to catch a good sleep), into an overnight service – departing Brisbane at 9.30pm and arriving at LAX at 5.35pm. The return VA6 flight is then a morning departure, leaving at 11.15am and arriving into Brisbane at 6.15pm the next day. This will ensure Virgin travellers have a wider range of options throughout the week.