Los Angeles is one of the most famous cities in the world, but it owes much of its fame to the surrounding communities. Take, for instance, the famous Santa Monica Pier. A Los Angeles landmark, the Santa Monica Pier isn't in Los Angeles at all - it's in Santa Monica, of course! So it's no wonder that many "Los Angeles vacations" are actually spent in places like Santa Monica. Santa Monica is one of the most famous resort towns in the world (even if so many people think of it as part of Los Angeles), and for good reason. The city features stunning beaches, an iconic pier, great food and drinks, and plenty of luxurious places to stay.
Reaching Santa Monica isn't hard. From Los Angeles International Airport - better known as LAX - Santa Monica is a relatively short drive. Visitors have to work their way across Los Angeles on the crowded 405, but this stress is easily eliminated with the help of a car service, and the trip itself will usually take less than 40 minutes even with Los Angeles' famous traffic. Once there, tourists will find plenty to do in Santa Monica. The beachfront community is packed with attractions and resorts, and its ideal location provides easy access to tourists hotspots in Venice, Los Angeles, and other nearby communities.
Where to Travel and What to do in Santa Monica
Santa Monica makes an ideal home base for any Los Angeles vacation, and not just because it's near attractions in other cities. Santa Monica has plenty of its own tourist hotspots, including perhaps the most famous pier in the world.
Hit the beach
When you get to Santa Monica, you'll see right away why it has become such an iconic vacation destination. Its beautiful beaches and sweeping views of the Pacific Ocean will strike a chord with any tourist, so it's no surprise that a visit to that beautiful beach is the first thing on our list of things to do in Santa Monica. Santa Monica's beaches are perfect for any seaside activity, from swimming and surfing to beach volleyball and frisbee (not to mention just lying on a towel and relaxing in the sun!).
The beaches draw crowds, but there is plenty of beach to go around. Most of what happens in Santa Monica happens along the water, so a walk along the beach will bring you by most of the city's best attractions - including the ones on this list. Nearby streets are full of restaurants and bars, too, so you'll never have to stray far from the beach while you enjoy your vacation in Santa Monica!
The Santa Monica Pier
The iconic Santa Monica Pier stretches out over the Pacific Ocean, inviting tourists and families to stroll out on its boards and enjoy its many attractions. The pier offers stunning views of the ocean, the city, and the distant mountains, but this attraction is about more than just connecting with the surroundings. This is a pier on the model of oceanside amusement parks, a Coney Island unto itself set in the warm beauty of the Southern California coast.
There's a ferris wheel and a roller coaster, an ancient and famous indoor carousel, and countless other colorful attractions. There are games to play, prizes to win, places to eat, and plenty of things to buy. The Santa Monica Pier is the perfect encapsulation of Los Angeles' glitz and cheesy glamor. It's a place to eat junk food and enjoy the thrill of an old roller coaster. It's Santa Monica's most famous attraction for a reason, and it attracts everyone from strolling lovers to boisterous families. Be sure not to miss it.
Take a bike ride
The oceanside is the perfect place for a bike ride - so it's a great thing that the cities along the beach have put in an incredible 26-mile bike path along the coast. There are plenty of places to rent bicycles in Santa Monica and nearby cities, so there's no reason to pack your own (unless you want to!).
Just rent a bike and start cruising - you can bike past the Santa Monica Pier, through nearby Venice Beach, and all over Santa Monica and neighboring cities! When at the bike rental shop, be sure to rent a bike lock as well so that you can leave your bike from time to time to explore attractions like the Santa Monica Pier on foot. Between walking and bike riding, you'll be able to explore the coastline for miles in both directions.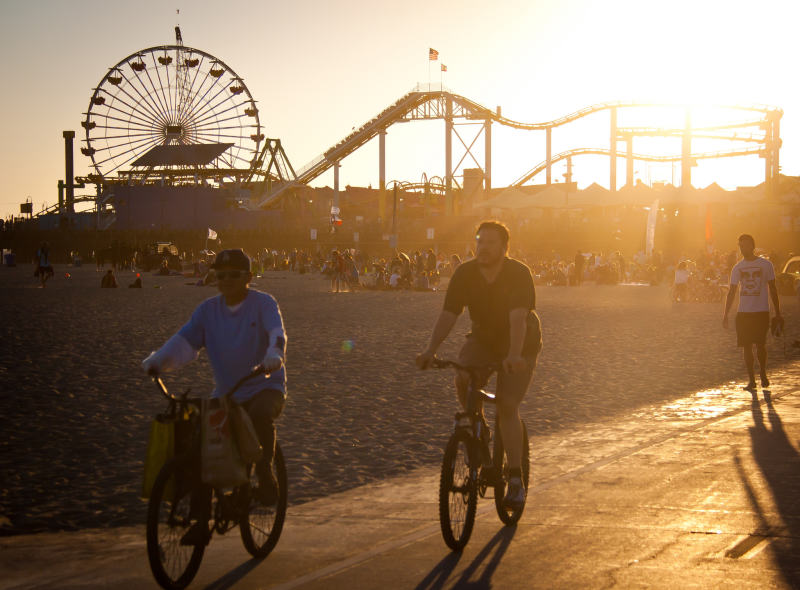 The Third Street Promenade
Los Angeles is a city of cars. So you may find that, after a few days in the area, you're pretty sick of them - honking, swerving, speeding, and (more often than not) backing up in endless lines of traffic). What a relief, then, that Santa Monica has taken a portion of its beautiful Third Street and closed it off to car traffic entirely. This pedestrian promenade is the perfect place to take a walk with your family, friends, or fellow vacation-goers.
The promenade has plenty of options for food, drink and shopping - and even options for movie lovers. If there's anything Los Angeles is better known for than its cars and traffic, of course, it's the movies! Santa Monica's promenade celebrates this with several theaters and more than twenty movie screens. You won't want to spend your whole vacation watching films, of course, but a cool movie theater on a warm day is a great way to get out of sun for just a bit during your stay in beautiful Santa Monica.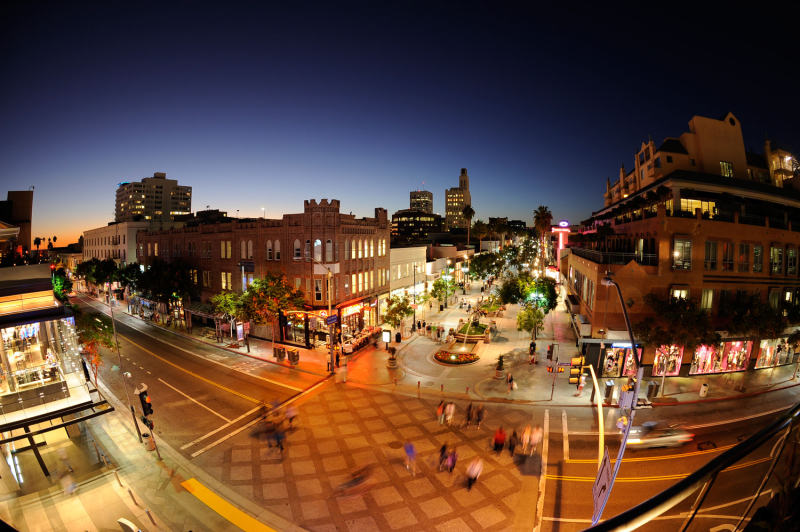 How to Get to Santa Monica from LAX
Santa Monica isn't far from Los Angeles International Airport, but getting there will require you to brave Los Angeles' busy Highway 405. Even with traffic, though, you'll likely reach your destination in under 40 minutes - sometimes quicker, depending on the time of day.
That's by car, of course. Traveling by bus will take you at least as long, and though the route is fairly direct, you will have to walk over to the City Bus Center near LAX. On the bright side, though, you won't have to brave the traffic yourself - you can leave that heavy lifting to your bus driver.
For the best of both worlds, consider contacting a car service to take you from LAX to Santa Monica. Los Angeles' car-oriented culture means that a car is usually the best way to reach your destination, but relying on a car service means that you won't personally have to battle Los Angeles' infamous traffic. You can relax in the back of a comfortable car while your drive takes you to Santa Monica - and, once there, you can rent a car for local trips before turning back to the car service for the cross-city trip back to LAX from Santa Monica. It's hard to get by in LA without a car, but nobody ever said that it had to be your car. Just be sure to plan ahead and let your car service know when you'll be arriving and departing at the airport, as well as where you'll be staying in Santa Monica and how many people require transportation.