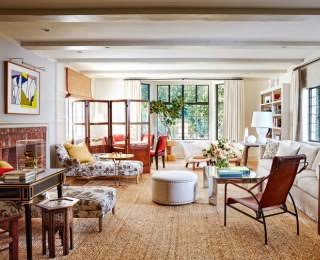 What do you do when there's no client—I mean no one specifically to design for—because the house you are working on is not actually meant to be anyone's home? The answer, of course, is that you have to invent a story. I found this out when I was asked to decorate a guesthouse for a couple already ensconced in a truly lovely and significant estate on the west side of Los Angeles. They had just acquired a 1920s Cotswolds-cottage-style house adjacent to their property, and despite their predilection for sophisticated, neutral interiors, I sensed that here they were looking for something a bit more adventurous.
This project, my first in L.A., came into my life through the great landscape designer Deborah Nevins, who had worked for these clients for more than two decades. The equally distinguished architect Marc Appleton was already attached as well. So, with a mild case of impostor syndrome at joining this high-powered team, I presented the idea of doing something "young," creating a place full of color and gutsy furniture combinations, despite the dignity of the architectural envelope.
Since the 4,000-square-foot home was meant to be a guesthouse, we could take a chance or two. The owners wouldn't have to live with it every day. Plus, the couple had children and grandchildren, so somebody young might actually turn up. And beyond accommodating guests, the cottage would also function as a sort of hermitage for the owners—a getaway where they could have dinner as a couple, or where they could take a night off from being grown-ups or just from being themselves. It's a rather romantic notion.
Our strategy for the decoration was all about adding modern counterpoints to the traditional setting. In the living room we placed Finn Juhl Pelican chairs next to leaded-glass windows and anchored one end of the light-filled space with a large wood sculpture/table that recalls the work of Alexandre Noll but was in fact constructed by my neighbor in his garage. Upstairs, the children's wing erupts in the vivid colors and patterns of Josef Frank's signature fabrics.
In the dining room, looking for some excitement, I set white reproduction Jean Prouve? chairs beside a serious Baroque painting, which, after much cajoling, I was allowed to liberate from its heavy gilded frame. I also painted the lowish ceiling a high-gloss muddy brown to try to add a little glamour and disguise the room's small scale. But something still didn't feel right, until the inspiration hit me to do a blue-and-yellow stripe in lieu of crown molding. (Balthus used to look at his unfinished work in a mirror to see what was missing; I do that with iPhone pictures late at night.) "It's a little south-of-the-border detail," I explained to a highly skeptical Marc. For me, it's the happy note the room needed, something to remind us that we are in Southern California and the sun is shining.
The biggest push-pull of the project was my campaign to expose the natural wood of the staircase, which was entombed in decades of white paint. I knew this house needed an element of architectural woodwork to gesture back to its Tudor roots, and that this kind of Elizabethan paneling would never have been painted originally. We ended up stripping the banister and the wainscoting under the stairs and whitewashing the whole thing.