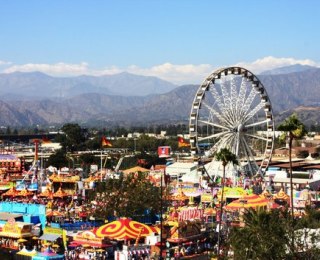 Friday
Bring your appetite for all things deep fried during the closing weekend of the LA County Fair. Expect tons of carnival rides and belly bombs, alongside new additions this year like a dinosaur exhibition and an indoor ice skating rink. Travel back to the island and celebrate the 12th anniversary of Lost's premiere during We Have to Go Back: The Lost Concert. The show's composer Michael Giacchino leads the Hollywood Studio Symphony Orchestra at the Ford Amphitheater, with an appearance from showrunners Carlton Cuse and Damon Lindelof. Show up early (7:45pm) for a pre-show conversation with Giacchino and Cuse.
Honor the harvest moon with a classy, boozy evening in the Alexandria Hotel's ballrooms at the LUCKYRICE LA Moon Festival Cocktail Feast. Sip on innovative, Asian-inspired libations during this two-hour, late-night cocktail extravaganza.
Make it an even later night at Sleepless: The Music Center After Hours. Watch as the cultural institution transforms into an interactive performance space during this futuristic, sci-fi-influenced edition, with kaleidoscopic telescopes, an LED tunnel and classic arcade games.
Saturday
Take advantage of an afternoon of free museum admission during Museum Day Live. Local institutions like the Autry, Grammy Museum, Japanese American National Museum and more are offering free access today.
Catch up on some of your favorite comedy podcasts during the annual LA Podcast Festival. Today's live show highlights at the Sofitel include improv4humans, Who Charted? and Comedy Film Nerds.
Toast to Culver City's centennial with a free street fest during the Block Party of the Century. The block party portion includes everything from a cappella singers to samba dancers, while a ticketed tasting event includes sips and bites from local spots like City Tavern, the Culver Hotel, Spinfish and more.
If you're up for another free fest—and who isn't?—make your way to the La Brea Tar Pits' adjacent Tarfest. This celebration of live music and art will once again bring live music, dance, local artists and a beer garden to the public park.
Catch a timely election season special screening of Idiocracy in Echo Park. Mike Judge will be on-hand to present his dystopian cult comedy, along with President Camacho (Terry Crews) and Frito Pendejo (Dax Shepard). Show up early to see TRDMRK (DJ Nu-Mark from Jurassic 5 and Slimkid3 formerly of Pharcyde) spinning alongside DJ Diabetic (a.k.a. Shepard Fairey). Welcome to Costco, I love you!
Sunday
Start out your Sunday in Huntington Beach for the Surf City Surf Dog competition. The action starts in the morning with big dogs and works its way up (or down?) to pint-sized pooches before the final round.
Spend the afternoon in Long Beach for the final day of Music Tastes Good. This inaugural food and music festival finishes up its three-day run with sets from Sylvan Esso, De La Soul and Gallant—Sunday-only tickets are a steal at $35.
Hop on the Metro Blue Line and head to Watts Towers for the free Simon Rodia Jazz Festival. The counterpart to Saturday's Day of the Drum, the long-running festival features an afternoon filled with jazz performances and tributes.
Make for the coast and spend the rest of the day at the annual Abbot Kinney Festival. Take every artsy street fair you've ever attended and add in innumerable food trucks, five live music stages, local artisans and a beer garden at this beloved and stereotypically Venice fest.
Close out your weekend at the Hollywood Bowl for a concert from Bloc Party + Bob Mould + Ezra Furman. Catch the reconvened English indie rockers alongside Hüsker Dü frontman Bob Mould and the youthful, verbose lyricist Ezra Furman.