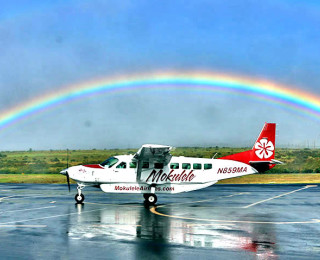 Daily flight service between Santa Maria and Los Angeles will return early next month. Starting Oct. 6, Mokulele Airlines will start flights between Santa Maria Public Airport (SMX) and Los Angeles International Airport (LAX).
"I think it's very important," said Chris Hastert, Santa Maria Public Airport General Manager. "Obviously, air service is a big concern for our board members and serving our public, who are the taxpayers for the district. We're very fortunate to find Mokulele, who is a regional carrier looking to expand into California, so the timing was perfect."
The Kona, Hawai-based airline will begin service just one day after United Airlines pulls out of the airport. Last month, United announced it will no longer operate in Santa Maria. The airline had been providing twice-daily service to San Francisco since May 2015. The move left airport officials needing to find a new carrier to provide daily service to a major hub.
"It enables us to have at least some service in place to replace the outgoing service," said Hastert. "Having service to Los Angeles, with all the connections that they have there, is a great benefit to our residents here in Santa Maria."
Founded in 1994, Mokulele is a family-owned airline that operates daily flights between the Hawaiian Islands. Earlier this year, the airline made the jump to the mainland and began offering daily flights between the Imperial County Airport and LAX. It was the first step in expanding its operations, which continues with the addition of the new Santa Maria flight.
"We signed a one-year agreement, which has come incentives and waivers and other things," said Hastert. "We hope that they'll be very successful and stay much longer. They are obviously growing in California. We hope they'll add even more flights and possibly base some other other activities, such as maintenance and pilot training here as well."
Passengers who have previously flown from the airport with United or Allegiant Air, which also operates in Santa Maria, have been accustomed to jet service. Mokulele, however, will use much smaller planes, nine-passenger seat Cessna Grand Caravans.
"Mokulele operates a little differently from your standard airline because they don't have a direct connection with one of the major carriers, so there will be a little bit of a learning curve with the public," said Hastert. "We anticipate putting a webpage up on our site and working with them to get the word out on how you connect on to other airlines. They have agreements with Alaska and Air New Zealand right now, so booking through a travel agency, you can get those connections."
Hastert adds Mokulele will offer an introductory fare of $65 each way. He speculated it would rise after an initial period, but will eventually settle at a competitive rate.
While the airport has now re-established daily service to Los Angeles, Hastert says the search continues to add another major carrier. On the airport's "wish list" are locations such as Phoenix, Denver or Salt Lake City. Earlier this month, Hastert traveled to Dallas to meet with American Airlines.
"That meeting went well, obviously no announcements or anything yet," said Hastert. "It takes a long time for airlines to evaluate different routes that they would potentially fly in and out of, and we have other airline meetings hopefully to schedule in the next couple of months."