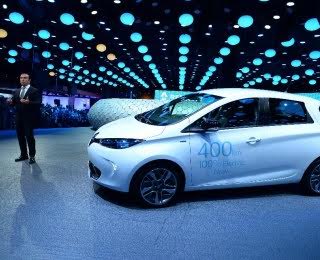 There is one thing Tesla can be proud of: Automakers around the world are getting off their duffs. Today, French carmaker Renault announced at the Paris auto show that its fully electric "ZOE will be available for immediate sale with the Z.E. 40 battery enabling it to travel 400km NEDC." The car is just one in a wave of longer-range EVs, launched by major automakers to compete with Tesla's Model 3, which is not expected to appear in serious quantities before 2018.
ZOE's 400km range translate to roughly 250 miles according to the New European Driving Cycle (NEDC). That cycle might be a bit optimistic. However, Renault states that the number is "equivalent to a real-world range of 300km [186 miles] in urban or suburban areas on a single charge." With that, Renault's ZOE is the first of a number of electric vehicles that deliver a gasoline-like range at an affordable price. The current ZOE starts at EUR 17,490 ($19,630) including tax.
The ZOE is already Europe's best-selling electric passenger vehicle, and its "range increase surpasses any affordable electric vehicle available today," Renault says. Renault's ZOE is the sibling of Nissan's LEAF. That Nissan is preparing a new generation LEAF with a range of approximately 300 miles has been a badly-kept secret since last year. The car was generally expected for 2018, but with sister ZOE available now, it probably is a good guess that Nissan will pull forward its plans.
GM's Bolt will be available late 2016 for $37,495. Opel today announced a Bolt-based Ampera-e to roll on the European market in 2017. Daimler launched a whole new electric brand named EQ today, with the first model to be "launched in the SUV segment before the end of this decade," Daimler says. Volkswagen's "400 to 600km" I.D. EV also will hit the road in 2020. Peugeot promised five electric models by 2021.
The market for electric vehicles will be very crowded with models from large makers with boundless manufacturing capacity, huge dealer networks, and a target painted on Tesla. The Californian carmaker already lost China to the Chinese. In Europe, Tesla shows serious weakness, well before EU OEMs have begun making EVs in earnest.