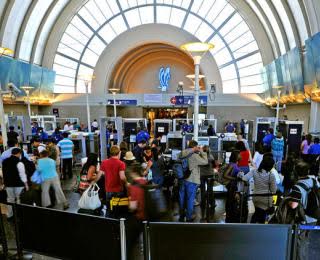 For years, making many flight connections at Los Angeles International Airport has required a walk outside the terminal or a shuttle bus ride, as well as re-screening at a security checkpoint.
LAX officials say a new $148.5-million passenger facility that opened Thursday will end those inconveniences for many passengers.
The new Terminal 4 connector allows travelers to move between the recently expanded Tom Bradley International Terminal on the west side of the airport and the five terminals on the airport's south-facing side, which is home to dozens of airlines including United, American, Delta and Alaska. About 52.3 million passengers — 70% of the airport's total — passed through those terminals last year, officials said.
Travelers can now cross between these terminals without going outside or leaving secure areas — although anyone flying into the Bradley terminal will still be required to go through customs and immigration.
"The key to successfully renovating the airport is building modern facilities that improve efficiency for the traveling public," said Sean O. Burton, president of the Los Angeles Board of Airport Commissioners. "The Terminal 4 connector does that by reducing the walking distance between terminals and making transfers easier for passengers with checked luggage."
The new multilevel facility includes moving walkways between the Bradley Terminal and Terminal 4 next door. From there passengers can proceed by tunnels and connecting corridors to Terminals 5, 6, 7, and 8, where they can reach shopping, restaurants, coffee shops and lounges.
The Terminal 4 connector also offers new amenities to passengers arriving at the airport, such as more convenient baggage transfer and luggage inspection stations as well as a faster-moving, four-lane TSA checkpoint that can screen 3,000 passengers or more a day. A public plaza with outdoor seating is located on the upper departures level.
Airport officials say completion of the project is a major step forward toward securely connecting all LAX terminals. Plans call for similar connectors to be built at Terminals 1, 2 and 3 on the airport's north side.
Los Angeles World Airports, the operator of LAX, contributed about $114 million to the connector project, while American Airlines put in about $34.5 million. The federal Transportation Security Administration will reimburse American for some of its contribution.
Airport officials estimate that constructing the Terminal 4 connector generated about $230 million in benefits to the local economy and created 1,400 annual jobs with a total payroll of $85.2 million.
Its building and facilities are equipped with some of the most energy efficient lighting, cooling and heating systems available. Designers have also reserved space for the future installation of solar panels to generate electricity.
The connector is part of an $8.5-billion-dollar modernization and expansion of the nation's third busiest airport, which is the primary international gateway to the western United States. The centerpiece of the work has been the $2-billion remodel of the Bradley terminal.
Among the other projects are improvements to domestic terminals, a proposed midfield concourse with additional passenger gates and plans for a centralized car rental facility, a people mover in the terminal area and a light-rail connection to the Crenshaw Line, which is now under construction.