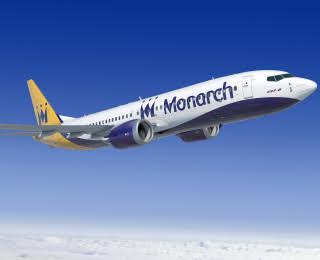 Monarch Airlines has been given a last-minute reprieve by the aviation authorities, who agreed to temporarily extend its licence to fly with only hours to go before Friday's deadline.
The airline's existing Air Travel Organiser's Licence (Atol) ran until midnight and it was seeking approval from the Civil Aviation Authority (CAA) for a renewal amid reports that it was in financial peril.
With fewer than four hours to go, Monarch announced it had "received significant further investment from shareholders". A company spokesperson declined to provide any further details of that deal to the Guardian but the firm claimed to be "close to announcing the largest investment in its 48-year history".
The CAA said that it had required the shareholder to put up the money and that, since it now felt confident that customers' money could be protected, it had agreed to extend Monarch's existing licence for 12 days.
But it said that the firm would still need to provide adequate assurances before its full licence, which runs for a year and requires proof that a company has enough money to operate for three months, can be renewed.
"I am delighted that we have been able to come to an agreement with the CAA on the extension of Monarch's Atol and am excited about the additional capital coming into the group which will help us fund our future growth," said Andrew Swaffield, the chief executive of the Monarch group.
The CAA said the extended licence would expire at 23:59 on 12 October. "Monarch will remain Atol licensed until this extension expires."
It added: "The CAA always advises consumers to ensure they book Atol-protected air holidays and consumers who choose to book an Atol-protected flight or holiday with the company during this time will continue to be protected by the Atol scheme.
"During this period of extension, the CAA will continue to monitor the company."