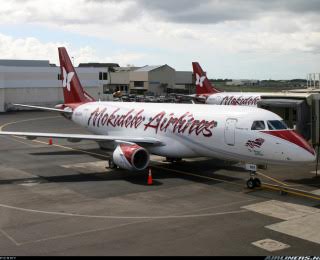 SANTA MARIA, Calif. - A little bit of aloha spirit has flown into Santa Maria. On Thursday, Mokulele Airlines began service from Santa Maria Public Airport to Los Angeles International Airport (LAX).
"Mokulele Airlines is very excited to be here," said Mokulele Airlines Director of Airport Services, John Iacovazzi. "This is going to be our third city we'll be flying to in California. Our first one is El Centro, California, LAX Airport and now Santa Maria."
The family-owned airline based in Kona, Hawaii expanded to California earlier this year. Founded in 1998, Mokulele has developed into a popular "island hopper" in Hawaii, providing service between Oahu, Maui, Lanai, Molokai and the Big Island.
Now, with its new service in Santa Maria, the airline will offer four daily flights to LAX.
"We're very excited to welcome Mokulele here to Santa Maria," said Santa Maria Public Airport General Manager, Chris Hastert. "Obviously they're serving Los Angeles International Airport, switching back over to Los Angeles from our service on United to San Francisco. Los Angeles has served us very well in the past. We're happy to be going back to that market and a lot of connecting flights."
Mokulele essentially fills the void left by United, which flew out Santa Maria for the final time on Wednesday. The airline had offered daily service to San Francisco, but decided to leave the airport two months ago.
"Los Angeles is much more supportive than San Francisco." said Hastert. "With the weather and the delays that we have up there, so the general public is very happy to see Los Angeles back over San Francisco. It's going to be a little bit of learning curve to understand who Mokulele is and where they're flying to, a little bit of a misconception thinking a lot of people thought they're flying to Hawaii, but we're trying clear all that up, trying to get our marketing out there."
Mokulele will depart Santa Maria daily at 7:15 a.m., 11:15 a.m., 1:45 p.m. and 5:30 p.m. Planes used will be significantly smaller than the ones used by United. While United offered service on 50-seat jets, Mokulele flies nine-seat Cessna Grand Caravans.
"The thing that is going to be exciting about it is we only fly about 6,500 to 7,500 feet above sea level here," said Iacovazzi. "We'll be riding down along the ocean going into LAX and it will be kind of like a nice scenic route for the passengers to enjoy."
Iacovazzi also notes Mokulele flies with two pilots, even though federal regulations requires only one pilot in the cockpit.
"The reason why we have two pilots is the safety of our passengers," said Iacovazzi. "We're very safety-oriented and we care about our passengers very much. Everyone should be very comfortable."
Even though Mokulele is now operating at the airport, airport management continues its effort to attract a major carrier. Last month, Hastert met with American Airlines officials in Dallas to open dialogue about re-establishing service at the airport.
"We think this is a great substitution for the service that is going away, so we retain service to a hub airport," said Hastert. "We continue to to look at better hub airports with eastbound service. We think the addition of a major carrier to an east bound hub, Mokulele will definitely compliment that service, so you'd have different options flying back in, so if we have a hub connection to a Phoenix, or a Salt Lake City, or a Denver and Los Angeles, we're much better served than we were with just one hub through San Francisco."
Mokulele will hold a small grand opening ceremony at the airport on Saturday, Oct. 8 from 2:00 p.m. to 5:00 p.m. The airline is offering introductory fares starting as low as $49.