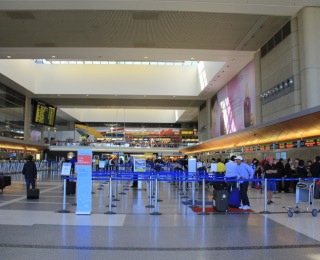 If you think your cellphone is sluggish at LAX, it's not your imagination."Mobile network performance at Los Angeles International has often struggled," says a new report from RootMetrics, an independent mobile analytics firm based in the Seattle area.
Looking at AT&T, Sprint, T-Mobile and Verizon, the report, released Tuesday, said downloads at LAX topped out at 2.8 Mbps.How not fast? Let's say you get to LAX and you want to download at 45-minute TV show to pass the time while you're in the air. If your carrier is Sprint or Verizon, it would take two hours and 40 minutes; T-Mobile would be a little less than two hours; AT&T would be slightly less than half and hour.
By comparison, at super-busy Hartsfield-Jackson Atlanta International Airport (which the report ranked first for mobile performance among the five busiest airports and sixth on a list of 50), you could download that same program in two minutes on AT&T and Verizon, three minutes on T-Mobile and about 13 minutes on Sprint.
On a rank listing of service providers' speed at 50 airports, LAX was No. 50.It would be easy to blame the airport or the providers for the glacial service, but it's not their fault.
LAX's age coupled with the number of passengers it serves — in 2015, it enplaned 37 million passengers, according to Bureau of Transportation statistics — can create a logjam, said Annette Hamilton, director at RootMetrics.
"Any time you have massive amounts of people in a single location, it puts stress on networks," she said.She likened LAX's situation to everybody in the same household trying to watch Netflix on different devices at the same time.
"LAX is a special child," she said, noting that "performance variables" that service providers encounter include "where it [the airport] is located, how close it is to the city center, even types of materials used in building."
The good news is that Orange County's John Wayne has improved from No. 35 to No. 4 in mobile performance. And if you're flying to Oakland? It's No. 1 on the list of 50.
The rest of the RootMetrics' Top 7 list:
2. General Mitchell International, Milwaukee
3. Southwest Florida International, Fort Myers
4. John Wayne
5. Boston Logan International
6. Atlanta
7. Indianapolis International