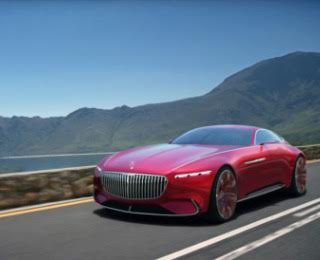 Stop us if you've read this before: Mercedes-Benz has another ridiculous concept car. At CES 2015, we got a close look at the F015 Luxury in Motion self-driving concept and now the automaker is back with an all-electric coupe. Officially dubbed the Vision Mercedes-Maybach 6, the new vehicle is a mix of "sensual purity" and "aerodynamic efficiency" according to Daimler AG design lead Gorden Wagener. Mercedes also notes that the Vision 6 is an equal mix of "hot" with emotional design and "cold" with so-called intelligent details.
You're probably wondering why it's so long. Well, Mercedes says the elongated design, low roof and rear positioning of the cabin are an homage to the classic coupes of a bygone era. In other words, this is the automaker's reinterpretation of those vehicles. Around back, designers gave the 6 a "boat tail" that looks like something you would see on the backside of a yacht and gullwing doors for entry on the sides. Inside, front-seat passengers get a wide-open view of their surroundings with driving data and other information projected on the windshield for an augmented reality road trip. The dashboard also wraps into the door panels and the seats for what Mercedes calls a 360 lounge. Overall, some of the materials, trim, wood floors and other accents are aesthetic touches we saw on the F015.
As far as the electric powertrain is concerned, the 6 is all-wheel drive thanks for four electric motors capable of 550kW of power and 738 horsepower. There's an additional 80kWh battery in the floorboard that allows the car to travel up to 200 miles. Mercedes says that setup also enables true sports car performance with stats like 0-100 km/h (0-62 MPH, approximately) in under four seconds and a top speed of 250 km/h (around 155 MPH). All of that power doesn't impact range either, as the luxury EV claims 500 km on a charge. That's around 310 miles for those keeping track at home. What's more, the 6 can charge enough to take you 62 miles (100 km) in five minutes. This vehicle can either be plugged in or charged via a wireless induction system when the time comes.
The Vision 6 made its official debut at this week's Monterey Car Week festivities at Pebble Beach, but we'll have to wait and see if Mercedes plans to make this concept a real thing sometime in the future. The automaker did confirm earlier this month that it was working on a new EV with a range of 250-310 miles following reports that it would debut four EV models to compete with Tesla.