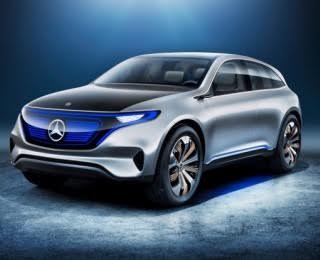 German luxury giant Mercedes-Benz unveiled a concept version of its first premium battery-electric vehicle in Paris this past week.
The "Generation EQ" is a battery-electric crossover SUV with two electric motors and a claimed range of "up to 500 kilometers." Officially, for now, it's a show car -- but Mercedes confirmed that it's "close" to a vehicle it intends to bring to market in the near future.
On the outside, the Generation EQ is Mercedes' take on "an avant-garde, contemporary and distinctive electro-look," according to design chief Gorden Wagener. The most striking design element is the blue lighting in its nose, which is incorporated in the vehicle's interior as well.
I'm not sure how well the big blue nose will be received if it appears on the production version, but overall the Generation EQ looks like a somewhat sleeker version of its gasoline-powered equivalent, Mercedes' GLC crossover. The nose aside, it's a handsome shape that should play well with luxury buyers.
Inside, it's show-car fancy, with super-thin seats, touch-based controls, and no knobs at all on the dash. There are only four seats, which Mercedes somewhat fancifully says helps "make for a visual lightness." (I expect the production version to have an interior more like a typical Mercedes crossover, with some added futuristic touches.)
The tech specs are solid, though mostly not groundbreaking. The Generation EQ has two motors, one on each axle, giving it always-on all-wheel-drive and a claimed 0 to 100 kilometers per hour (0-62 mph) acceleration time of "under five seconds."
The vehicle's battery pack will apparently be available in more than one size, with the largest being "over 70 kilowatt-hours," Mercedes said. The claimed range (on the European NEDC standard) is "up to 500 kilometers" (310 miles). The NEDC standard is more generous than the EPA standard used in the U.S.; an EPA-rated range of around 250 miles is likely.
The Generation EQ supports DC Fast charging under the Combined Charging System (CCS) standard, as well as wireless charging via an induction system. Mercedes' statement hints that its vehicles will be able to support DC Fast chargers of up to 300 kilowatts, which will add 100 kilometers (62 miles) of range within five minutes. (Those 300 kW chargers don't exist yet, but they're coming.)
Price? Mercedes hasn't said clearly, but the hint is that it will be priced similarly to the gas-powered GLC, which in the U.S. starts at $39,000. (Realistically, $45,000-ish is probably a reasonable guess, though you may have to pay more for the 70 kWh battery pack.)
Long story short: It's enough to be competitive, especially at the expected price, but its technical specs aren't going to keep Tesla Motors' engineers up at night.