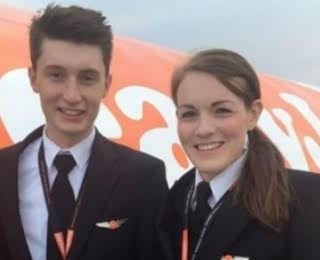 Kate McWilliams, 26, started flying when she was just 13 and became a pilot in 2011. Passengers and cabin crew ask Kate McWilliams how old she is "almost every day". The 26-year-old British woman recently qualified as an airline captain, making her the youngest commercial captain in the world.
"Personally I don't think my age matters," McWilliams, who flies for UK airline EasyJet, told The Independent. But McWilliams' youthful appearance does not detract from her qualifications. She started flying at 13 in the air cadets and began a training programme at CTC Aviation when she was 19.
McWilliams became a first officer in 2011 before passing a command course to become a captain this year. "I've been through the same training and passed the same command course as every other captain so I've proven myself capable regardless of my age," she said. McWilliams, who is among the 5 per cent of female pilots, flies Airbus A319 and A320 planes to 100 destinations throughout Europe.
Accompanying McWilliams on a recent flight was Luke Elsworth, 19, who this year became the UK's youngest pilot. Julie Westhorp of the British Women Pilots' Association said she hoped McWiliams' story would inspire more women to consider an aviation career.
"It clearly demonstrates to other young women that it is possible to succeed as a pilot in commercial aviation," she told the Press Association.
Earlier this year, Royal Brunei Airlines introduced its first all-female pilot crew.
Royal Brunei Airlines' first all-female pilot crew before their inaugural flight earlier this year. Photo: Royal Brunei Airlines/Instagram
Captain Sharifah Czarena and senior first officers Sariana Nordin and Dk Nadiah Pg Khashiem were pictured in the cockpit of the Boeing 787 Dreamliner before their inaugural flight on February 23, which is Brunei's National Day.
The trio made their maiden flight together from Brunei to Jeddah, Saudi Arabia - a country where women are forbidden from driving cars.