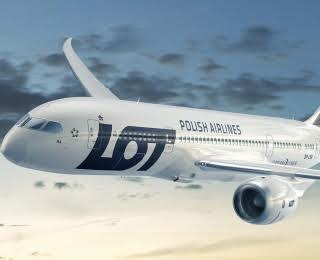 LOT Polish Airlines will begin flying from Newark Liberty International Airport on April 28.The carrier revealed its intention to begin flying from Newark earlier in September during a broader expansion announcement, but LOT had not revealed a start date for the service.
LOT will begin by flying three weekly flights between Newark and Warsaw before adding a fourth weekly flight in June. The airline says it will initially fly the route with leased Boeing 767-300 jets before switching to its new Boeing 787 "Dreamliners" in August. LOT's leased 767s will operate with business and coach class cabins. The Dreamliners also have LOT's premium economy cabin.
LOT previously flew to Newark, but discontinued that service in 2012 to "consolidate" its New York-area operations at New York JFK.
"Newark is one of the most important airports to the Polish diaspora on the east coast of the United States. I am pleased that we are able to relaunch that route after a break lasting several years, ensuring our fellow countrymen the most comfortable flights to Poland," LOT CEO Rafal Milczarski says in a statement.
Tickets for the route will go on sale Tuesday (Oct. 4).LOT touted the connections it will offer via its Warsaw hub, especially to cities in central and eastern Europe.
"LOT offers the shortest and the most comfortable connections via Warsaw to dozens of cities in Europe. It means only two hours transfer time to destinations such Moscow, Prague, Budapest and Vilnius, and great connectivity to major Polish cities, such as Gdansk or Kraków," Milczarski says in the statement. "Newark is no longer a missing link in our route network. Our return to that destination makes us an attractive airline to numerous passengers who have not relied on our services yet."
LOT' service from New York JFK will continue in addition to the Newark service.
LOT touted its Newark announcement as part of its "profitable growth strategy that the airline has been implementing since early 2016." LOT says it has announced nearly two dozen new routes since then. That includes the carrier's high-profile Warsaw-Seoul route that's scheduled to launch Oct. 17.