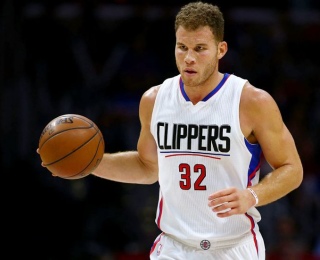 Clippers forward Blake Griffin wrote an open letter to fans. He summed up last year with: "last season sucked." Here's what else is happening in the Golden State:
TOP STORIES
End of an era: The voice of the Dodgers is ending his career after 67 years. It was a weekend of tributes to Vin Scully, who called his last game at Dodger Stadium on Sunday. His final broadcast will be this coming Sunday in San Francisco. "For the people of Los Angeles, he is not merely the announcer of baseball games, he is the soundtrack of our lives, the dignified and graceful accompaniment of endless sandy summers, a daily harmonic reminder of the Southern California dream." Los Angeles Times
What a win: The Dodgers won their fourth consecutive division title Sunday with a walk-off homer. Los Angeles Times
All alone: The issue of solitary confinement in state prisons has received a lot of attention, but long-term isolation in county jails is often overlooked. In L.A. County, the average stay in "restrictive housing" is a year — long enough to experience "debilitating psychological effects." "The majority of these inmates, they want to be out, to have the interaction, the freedom. It's healthier," said Capt. Joseph Dempsey, who is in charge of Men's Central Jail. Los Angeles Times
Fear and paranoia: Some Latino voters are so concerned about Republican presidential nominee Donald Trump that they are turning to fortune tellers, witch doctors and shamans for help. They want to know if the billionaire businessman will win the November election. "Everyone thought he was a joke, a bad telenovela. But now they know it's real and they come to me with a lot of fear, a lot of paranoia," said Maria Murillo Beltran. Los Angeles Times
Make way: Sixth Street in the Miracle Mile area is going on a road diet. Cars will soon have to give up lanes to make more room for cyclists and pedestrians. Curbed LA
Land grab: When Los Alamitos Race Course closes one day, it could be the new home of a master-planned, mixed-use community. Orange County Register
Brick and mortar: What's a mall to do when its anchor tenant closes? "It's going to be very challenging for the independent specialty stores to survive a major anchor like Macy's shutting down," said Logan Rodriguez, a former Macy's executive who is now strategic account director at Square Root. "I don't know that you have too many options." Los Angeles Times
POLITICS AND GOVERNMENT
Fact check: The scope of Trump's falsehoods is unprecedented. So where does that leave voters and journalists? "He's a con man. He's hustled people out of money that they're owed. He's lived off tax shelters. He's always looking for a scheme and a con, and in that sphere, you just fall into telling lies as a matter of course," said Thomas E. Mann, a resident scholar at UC Berkeley's Institute of Governmental Studies. Los Angeles Times
Employee relations: Los Angeles County has made it easier for Probation Department employees with a history of disciplinary problems to receive promotions. Those problems range from off-duty drunk driving to mistreating children in custody. "I mean, it's tough, because some of these people are going to work 30 years for us. We've got to have some process so you can overcome the mistake you've made," said Cal Remington, the interim probation chief. Los Angeles Times
CRIME AND COURTS
Disso queen: Thanks to the Angelina Jolie-Brad Pitt divorce, attorney Laura Wasser is back in the news. She's Hollywood's most famous divorce lawyer. New York Times
Suspects arrested: Fullerton police have arrested three people, including a 17-year-old female, in connection with a triple homicide. Police say the victims and suspects knew one another. Los Angeles Times
Lights and sirens: Two San Francisco paramedics are in trouble for reportedly using an ambulance for sex. One male paramedic drove the ambulance while the other allegedly had sex with a woman in the back. SFist
Inspired by true events: Actress Julia Roberts is reportedly "attached" to play Kelli Peters, the Orange County PTA mom who was the subject of the Los Angeles Times' six-part series "Framed." Variety
DROUGHT AND CLIMATE
Water sources: Last year, farmers in the San Joaquin Valley dug 2,500 wells. That's a record number. Sacramento Bee
Dangerous conditions: Soaring temperatures and Santa Ana winds could mean wildfires for Southern California. "I'd say the tinder box would be Southern California itself," said David Sweet, a meteorologist with the National Weather Service. Red flag warnings will remain in effect through Monday afternoon. Los Angeles Times
Forest for the trees: California's forests will be OK, even as millions of trees die off, according to a professor of environmental analysis at Pomona College. "Even those who mourn the loss of the iconic, pine-scented uninterrupted sweep of green trees in the Sierra should remember that the 'death' we perceive in California's forests presages their regeneration." Los Angeles Times
FUTURE CALIFORNIA
Future of automation: Trucking is one of the last professions that can provide a middle-class lifestyle without a college degree. But that could be changing as carmakers and ride-sharing companies pursue a future of driverless cars. "We are going to see a wave and an acceleration in automation, and it will affect job markets," said Jerry Kaplan, a Stanford lecturer. Los Angeles Times
CALIFORNIA CULTURE
Social hierarchy: This is the fascinating story of San Francisco socialite Dede Wilsey and her place in the city's world of arts and philanthropy. New York Times
Long-lost family: In Palm Desert, 90-year-old Frances Inman Gonsalves is meeting her half-sister for the first time. "When she walked into my home, it was wonderful. The most wonderful thing that has happened because now our family is complete," Gonsalves said. Desert Sun
What a steal: Monthly rents are dropping in San Francisco and San Jose. The average price of a one-bedroom in San Jose dropped from $2,790 to $2,455. And in San Francisco, a one-bedroom will go for an average of $3,698. Mercury News
CALIFORNIA ALMANAC
San Diego will be 94 degrees and mostly sunny. Los Angeles is expected to have a high of 100 degrees. Riverside will be sunny and 99. Sacramento will be 97 and sunny. San Francisco will have sunshine and a high of 84 degrees.
AND FINALLY
This week's birthdays for notable Californians:
Jeanie Buss of the Lakers (Sept. 26, 1961), tennis superstar Serena Williams (Sept. 26, 1981), economist Oliver E. Williamson (Sept. 27, 1932), actress Gwyneth Paltrow (Sept. 27, 1972), USC President C. L. Max Nikias (Sept. 30, 1952), Dodger pitcher Kenley Jansen (Sept. 30, 1987), actress Julie Andrews (Oct. 1, 1935), Mark McGwire with the San Diego Padres (Oct. 1, 1963), Rep. Devin Nunes (Oct. 1, 1973).