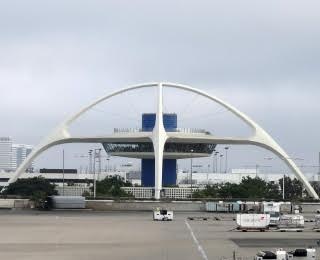 On Thursday, 16 outgoing flights from Los Angeles International Airport to Florida were canceled and 13 incoming flights were also halted due to Hurricane Matthew, officials said.
Airport closures and over 2,500 canceled flights in anticipation of Hurricane Matthew were affecting incoming and outgoing flights in LAX. By early Thursday, at least 29 flights to and from Orlando, Miami and Fort Lauderdale were canceled.
Officials at Florida's major airports were monitoring conditions as Hurricane Matthew bears down on Florida.
On its website, Fort Lauderdale International Airport announced plans to close at 10:30 a.m. EDT Thursday. Officials advised travelers to check with individual airlines about flight plans.
Officials at Miami International Airport will halt operations at noon EDT and 9 a.m. PST, according to a spokesperson for the airport. On its website, officials noted that generally "airports don't' operate in sustained crosswinds that exceed 35 mph."
The Palm Beach International Airport website doesn't say when flights will be suspended, but asked travelers to stay away, noting that the airport is not intended for use as a shelter.
In Orlando airport officials are preparing for hurricane conditions. In a note on its website, officials at Orlando International Airport say they plan to being "reducing flights into Orlando and altering schedules starting Thursday, lasting through Friday." They, too, advise travelers to get in contact with individual airlines for flight plans.
The Jacksonville International Airport website also advises travelers to check flight status with the airlines before heading to the airport.
The Category 3 hurricane is heading toward Florida and could make landfall near West Palm Beach by 8 p.m. The National Hurricane Center expects Matthew to strengthen to a Category 4 as it nears the state.
If the storm makes a direct hit, it could be the worst hurricane to hit Florida in decades.
Florida, Georgia and the Carolinas are already under states of emergency.
About 2 million people are being asked to leave their homes in what authorities say could be the largest mass evacuation ever.