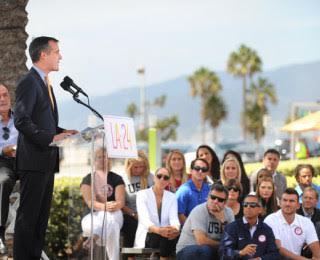 The deadline is looming to submit another round of bid materials to the International Olympic Committee, but many Los Angeles city leaders continue to have questions about what legal and financial protections will be in place should L.A. be awarded the 2024 Summer Games.
The second round of bid materials is due Oct. 7. The Los Angeles City Council is scheduled to discuss the bid materials this Friday.
Los Angeles is in competition with Paris and Budapest to host the Games. The City Council in Rome is expected to vote Thursday on whether to reject the city's Olympic bid at the urging of its mayor. The IOC will choose a host city in September 2017.
At an ad hoc committee meeting Wednesday, several City Council members questioned what protections would exist should the city have a funding shortfall or an unforeseen catastrophe. Bid leaders have said the cost of the Games could exceed $6 billion. They expect sponsorships, broadcasting rights and other revenue streams to cover those costs and leave a $161-million surplus.
Last week, LA 2024, the private group leading Los Angeles' bid, announced a number of venue changes. The Honda Center in Anaheim would host volleyball. Men's and women's golf would be held at the Riviera Country Club in Pacific Palisades. And Long Beach would host handball, BMX racing, water polo, marathon swimming, triathlon and sailing.
"I guess I don't quite understand how all of that works," said City Council President Herb Wesson. "If we're over in Santa Monica and something goes awry, their building blows up, falls apart, does that mean we have to pay for that?"
Chief Legislative Analyst Sharon Tso said that has yet to be determined.
"There isn't anything to that effect in place yet and I think that's one of the recommendations we need to work toward," Tso said.
LA 2024 is expected to provide $10 million in liability coverage at each venue.
"Whether it's in Santa Monica or Sepulveda Basin or elsewhere, LA '24 has an insurance obligation to protect the city, whatever city that venue may be in," said Councilman Paul Krekorian.
There is also state legislation, SB 1465, awaiting action by Gov. Jerry Brown that would create the Olympic Games Trust Fund. The fund would provide as much as $250 million to cover a financial deficit or liability.
"I would hope that the governor would sign that because this isn't just an Olympics for Los Angeles. It's an Olympics for the state, for the region, for the country," said Councilman Mitch O'Farrell, before adding: "We're all pretty sure there won't be a deficit in these Games."
Despite the concerns they expressed, members of the committee voted to support the bid materials.
The final round of bid materials, including the budget for the Games, will be considered by the council in December.