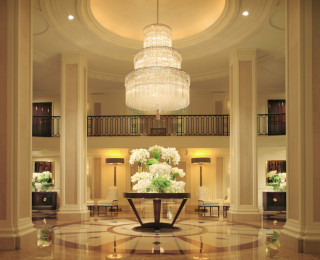 The Los Angeles hotel market isn't huge by comparison with that of New York or Chicago, but developers appear to be intent on rectifying that. With nearly 100 hotels planned, many of them for the city's central business district, some market watchers are starting to talk about oversupply.
Yet the hotel companies themselves clearly remain bullish on L.A.'s prospects, particularly in the downtown area. Some 5,468 keys out of a total of 11,120 in the pipeline for Los Angeles County are planned for DTLA, according to an analysis by The Real Deal in late August 2016 that included proposed projects as well as hotels that were under construction.
"There are a lot of hotels in different states of development right now," said Arash Azarbarzin, president of the SBE Hotel Group, a Los Angeles-based hospitality company. "If all of them get built, there would be saturation for a period of time. But what I've learned in the hospitality industry is that as more hotels come into the market, so do more companies."
Demand is robust, in large part due to strong job growth and new companies moving to L.A. Occupancy is expected to remain steady at around 80.5 percent — that's more than 10 percent higher than the long-run average of 68.9 percent. By the end of the year, L.A. could see a 7.8 percent increase in revenue per available room, or RevPAR, compared with a national growth rate of 4.2 percent, according to a June market forecast by CBRE.
To be sure, the huge number of hotel rooms in the pipeline has started to make some lenders cautious. Real estate experts say that developers are having to reach more to finance all kinds of L.A. projects, not least among them new hotels. Industry insiders tell TRD that banks are requiring developers in L.A. to put up more equity, accept higher borrowing rates and provide stronger guarantors in order to secure construction loans.
"I would say the biggest hurdles right now are going to be organizing your capital, financing your construction," said Cara Leonard, who works in the hotel investment banking platform of Savills Studley, a London-based real estate services firm, as a senior managing director in the L.A. office. "A lot of lenders are taking a step back and saying, 'We don't want to be overexposed.'?"
New York developer Lightstone Group is behind L.A.'s largest proposed hotel development, Fig+Pico, at the corner of Figueroa Street and Pico Boulevard. Lightstone first submitted project plans for an 1,100-room hotel complex in early 2016, with a proposed completion date in 2020.
The 880,000-square-foot complex would include towers ranging from 22- to 40-stories tall, and would be designed by Gensler, a global architecture firm based in San Francisco. The complex would include 20,000 square feet of retail and a 3,850-square-foot "sky lobby."
Planning for this project has been a challenge, said Lightstone President Mitchell Hochberg. "In New York, for instance, it's easy to get comps and occupancy rates," he said. "But in Downtown L.A., there aren't that many hotels to begin with, so the ability to interpolate isn't great, and you need to connect a lot more dots, which is riskier because you're making assumptions."
West Hollywood and Beverly Hills
With a current inventory of more than 12,500 rooms, the Hollywood and Beverly Hills area has 816 hotel rooms under construction and another 1,331 more in the planning stages, according to CBRE.
Developer Beny Alagem is building the first Waldorf Astoria on the West Coast — a 170-key, 12-story, $200 million project designed by Gensler — on land surrounding his Beverly Hills Hilton. The hotel is 70 percent complete, with a scheduled opening in 2017.
A rival 900,000-square-foot, mixed-use project called One Beverly Hills — with a 134-key boutique hotel, and 193 luxury condominium apartments — is planned next door on Wilshire Boulevard. Chinese billionaire Wang Jianlin's Wanda Group is behind this proposed $1.2 billion project, which has not yet broken ground.
In WeHo, Witkoff is making his first foray into the L.A. market with the 190-room Edition hotel. For this project, he has partnered with Vector Group CEO Howard Lorber, hotelier Ian Schrager and Marriott.
Savills Studley's Leonard said the L.A. market still has capacity to absorb new supply. "The economy in California has seen a major turnaround with the tech and movie industry," she said. "That's given us an advantage in the hotel market."