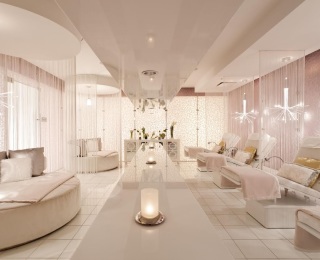 There's little more thrilling to many than two words: spa day. A sensory indulgence and calming ambiance where one can disconnect for just a few hours. When limbs are loosened and a feeling of weightlessness follows you for the rest of the day. Being able to detach from the stress of our ever growing digital world is crucial, especially in a city where sitting in traffic is commonplace. Los Angeles has a number of impressive spas — sanctuaries where the blaring of car horns, unanswered emails and that to do list all quickly become an afterthought. And then there is the glitz. 22 karat gold chandeliers, plush pillows, and interiors bathed in white. Mosaic tiled steam rooms, caviar and champagne infused lotions. Lush gardens to enjoy privacy and a glass of champagne.
This is Hollywood, after all.
For a day of true luxury, here are some of Los Angeles' best spas to consider:
THE RITZ-CARLTON SPA, LOS ANGELES:
Downtown Los Angeles get its on own oasis of calm at this 8,000 square foot luxury spa. There are nine treatment rooms and a luxe couple's suite, relaxation spaces and aromatherapy rooms with private plunge showers. Neutral tones accented by gold and silver embody the classic Hollywood theme. This spa sparkles, and so will your body. Take the Champagne and Shimmer Body Treatment, which begins with with an organic scrub made from the seeds of champagne grapes, followed by an application of 24- karat gold shimmering powder.
There is even a farm to table body scrub that utilizes produce from the hotel's garden. The spa also dedicates a considerable portion of its massages to muscle recovery, with various techniques offered to alleviate knots. Try the Marula Body Ritual, a detoxifying 80-minute treatment that uses unique oils for a tree nut native to South Africa. The ritual also includes body exfoliation with mineral rich mud, a detoxifying wrap, scalp and facial massage, and full body hydrating massage. You'll be zenned out in no time.
TOMOKO JAPENESE SPA:
There are some spa experiences so unforgettable, it's hard to imagine having a better experience elsewhere. Tomoko Japanese Spa in Beverly Hills is one of those places. Founded on the principles of Japanese healing and renewal of the spirit, Tomoko offers treatments that aim to not only release tension, but renew the body with "khi" (energy). Guests are welcomed into a minimalist room with tea, a light snack and foot bath.
Wood accents and a fireplace reinforce functional and sleek Japanese design. Signature treatments at Tomoko include the Iro Iro massage, a blend of Japanese, Tai, and Chinese massage traditions to unblock energy from the body and increase flexibility. There is also an Ofuro bath made of Hinoki wood composition. The soak is meant to help expel toxins and release trauma from the body. Couple treatments include sushi from Sugar Fish, a well-loved restaurant chain in Los Angeles. Another impressive component of Tomoko is the privacy of its suites. No locker room is necessary here; rooms include plush seats, a place to store clothes, shower, and wooden bath. After treatments, guests can retreat to the main room to enjoy tea and mochi.
LARCHMONT SANCTUARY SPA:
Though not as showy as its counterparts, Larchmont Sanctuary and Spa is just as special, with treatments to match. Located in a 90-year-old building under a beautiful tree, the spa feels like a cabin retreat in the heart of the city. Eight treatment rooms (2 outdoor) offer guests an opportunity to experience truly impressive pampering with all organic products. Wood tones and vibrant orange color accent the property, giving its outdoor spaces the feel of a chic cabana on the beach.
The Head to Toe Indulgence is highly recommended. Imagine four hours of giving your entire body the best rejuvenation imaginable, including, body brushing and exfoliation with Himalayan sea salt, Jade stones to massage tension, foot reflexology, an organic, Vitamin C facial, and a beautifully lit bath. Not even traffic can upset the centered feeling this spa provides.
HOTEL BEL-AIR SPA BY LA PRAIRIE:
Visiting Hotel Bel-Air feels like the best kind of city escape. The property is nestled on acres of secluded gardens with splashes of peach and Spanish mission style decor. The spa is an oasis so serene, it's hard to believe bustling streets exist in the distance. Here, expect nothing less than VIP service. There are mosaic steam rooms and relaxation room to enjoy a glass of champagne buried comfortably under a cashmere throw.
Swiss skincare line La Prairie offers services that include everything from heated massage tables to platinum facials performed by two estheticians at once. The Signature Caviar massage is just as decadent as it sounds, with minerals, vitamins, and omega fatty acids to regenerate the skin. After unwinding, do not miss the afternoon tea, set in the tranquil gardens of the property's Wolfgang Puck restaurant. Over 50 brews are available, including Lemon Myrtle, Rooibos, and Egyptian Chamomile. The scones and clotted cream are the best treat to end a perfect spa day. So is the champers.
CIEL SPA at SLS Beverly Hills:
From its plush white furniture to minimalist yet welcoming decor, visitors are whisked away at Ciel Spa by Pearl Wellness in the SLS Hotel. Located on one of Los Angeles' busiest streets, the 5,000 square foot getaway provides ample opportunity to forget city life. A hip salon offers hair treatments that addresses everything from thinning to dry scalp. It's easy to spend hours in the salon, especially if you're lucky enough to get an appointment for hair color. The bubbly and good music will keep you feeling fabulous. Six treatment rooms are customized for guests with lighting and music. A blissful lounge is equipped with agua frescas, teas and fruits. Guests can also order healthy bites from Chef José Andrés between treatments. The signature Ciel massage is otherworldly, and you can be assured that every tense spot will not stand a chance. Ciel Spa is also the first Los Angeles spa to feature Biologique Recherché skincare for facial services. The Biologique Recherché Methodology is well-loved for its concentrated, raw ingredients that produce healthy, glowing skin.