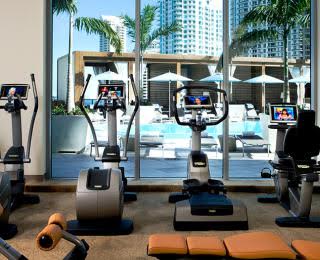 Hotels are going beyond renovating their fitness centers to help their guests stay in shape while traveling.Increasingly, they are partnering with familiar fitness brands such as Barry's Bootcamp and SoulCycle to ensure that travelers stay fit without compromising on their usual routine.
The W Hotel and Soho House in Los Angeles are collaborating with Barry's Bootcamp, a cardio and strength workout that launched in California in 1998, to have their guests take their classes. Soho House locations in New York and Miami are also working with Barry's. The fitness company has partnerships with hotels in Florida, Tennessee, Norway and the United Kingdom.
As part of the opening of its first Midwest location in Chicago, Barry's is looking to form alliances with hotels in the River North/Gold Coast neighborhoods.
"We work closely with local hotel concierges at all our locations to offer travelers our unique fitness experience," says Joey Gonzalez, CEO of Barry's Bootcamp.
The Great Northern, a Starwood Tribute Portfolio property in London that has no fitness center, offers travelers access to classes at the Barry's there. The front desk will book guests into classes for free. Hour-long classes normally run about $25.
The hotel, which also offers access to the nearby Nuffield Bloomsbury gym, selected Barry's because of its popularity, particularly among celebrities and athletes, says Jeremy Robson, owner of the Great Northern Hotel.
"Travelers now want to have easy access to innovative, fun ways to keep fit while abroad, for work or pleasure," Robson says. "Many of us want to go beyond pounding the treadmill …. Why not enable the guest to keep up their fitness routine during their stay?"
Every Saturday morning at the LINE Hotel in L.A., teachers from local yoga studio One Down Dog hold poolside classes. The classes are free for hotel guests and $10 for community members. The hotel, which is also the home base for the Koreatown Run Club, wanted to work with a compatible brand when it came to its fitness offerings.
"The LINE and One Down Dog both share the like-minded principal of fostering the local community and encouraging inclusivity," says Sana Keefer, brand director at The LINE.
The Langham in Pasadena has a similar arrangement with CorePower Yoga's local studio. The hotel offers an hour-long complimentary yoga class in its outdoor gardens monthly, running February through October. The first 100 attendees get access to the property's Chuan Spa, which includes a steam room and Jacuzzi, and invitations to an after yoga champagne reception.
The ART Hotel in Denver holds bi-weekly yoga classes as part of its Yoga on the Terrace series in conjunction with CorePower's Colorado studios. Hotel guests may also gain access to any class at two local CorePower studios during their stay. The hotel will even provide complimentary transportation to classes. Normally, the classes would cost $20.
"Our idea [is] to provide a luxury yoga experience for locals and hotel guests," says Candace Duran, director of sales and marketing at The ART Hotel.
The hotel provides complimentary yoga mats, towels, three flavors of infused water, and sunscreen butlers. When it's time to cool down, the yogis get hand-delivered chilled towels and a healthy smoothie shots.
"It benefits the hotel and our guests because it allows them the ability to indulge in a healthy mind, body and soul during their travel and gives them the opportunity to be a part of our community and our Golden Triangle neighborhood," Duran says.
David Barton Gym's Boston location is situated inside the Boston Park Plaza. Indoor spinning company FlyWheel is planning to open a studio within the Gansevoort Park Avenue in New York City this fall.
And SoulCycle's South Beach studio opened in 1 Hotel South Beach last November. While access to the brand's classes aren't always discounted for hotel guests, the proximity benefits both the travelers and the fitness companies.
"It is co-exposure and branding for the hotel and gym," says Kevin Kavanaugh, president of David Barton Gym. "The hotel gets access to all the David Barton Gym members, and the gym gets exposure to all the guests staying in the hotel."