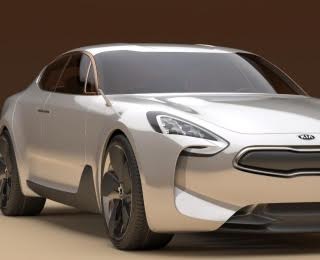 Kia has had a fairly worthy Paris motor show, launching the decidedly sensible new Rio. But next year will see things cranked up a notch, with the arrival of its production GT coupe.
The concept – a Merc CLS-alike four-door coupe, pictured – first appeared in 2011. And it seems we're finally getting a production version, with designer Gregory Guillaume suggesting it lands next year. He's also given a hint at what it might look like.
"Lots of old cars that are inspirational, help me focus. Take the GT show car – it may have four doors, but it's front engine and rear drive. The car I loved like that as a kid is the original Maserati Ghibli. It's a completely different car, but it has this gran turismo elegance to it.
"The Ghibli is the sort of car you drive from Paris to the south of France in one shot. Everything is effortless. That always stayed in my mind when designing the GT."
A Kia sports saloon inspired by a classic Maserati is certainly an interesting prospect. As is what lies beneath. The concept was rear-wheel drive – expect that to remain the case for production – while it had nearly 400bhp from a turbocharged V6 petrol engine. How much power a street version has is more of a mystery.
Kia's new dynamics boss, Albert Biermann – formerly of BMW's M Division – wouldn't be drawn on power output, but did confirm the GT will be Kia's "most powerful car in Europe by far." Kia does sell a 420bhp V8 saloon in America, so expect the GT to sit below that output. Numbers will be small in Europe, where the GT is earmarked as something to build the brand, but Kia is eyeing larger sales figures in the US.
Biermann has been tasked with making Kias sharper and more fun to drive, and more dynamic than their respective Hyundai rivals. Save, that is, for hot hatches: while Hyundai goes Ford Focus RS-chasing with its 374bhp AWD RN30 concept, Kia will keep its fast hatches sane.
"The game of our Kia GTs [like the Ceed GT hot hatch] is not to attract the people who read magazines to see who is the fastest around the Nürburgring," says Biermann. "They can do a good lap time, but they are not trackday cars."
He does, though, see the potential of a smaller, Rio GT hot hatch, to potentially take on the Fiesta ST, though more likely in the Ford's next generation. "I could see a Rio GT. There is no plan at the moment. But personally, I like small powerful cars!"