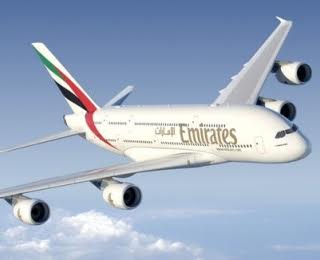 This week Emirates announced that it will add a second daily flight between Los Angeles International Airport and Dubai International Airport, beginning on July 1.
This second flight between LAX and DXB will be operated with an Airbus A380-800LR aircraft configured with 14 private suites in first class, 76 seats in business class and, in economy class, 401 seats.
Flight EK218 will leave Los Angeles at 10:30 p.m. daily and arrive in Dubai 16 hours later, at 1:30 a.m. Flight EK217 from Dubai will leave at 3 p.m. daily and arrive in Los Angeles at 8 p.m.
Emirates' current A380 service between Los Angeles and Dubai leaves LAX at 4:45 p.m. and arrives in Dubai at 7:35 p.m. the following day. The flight from Dubai leaves at 8:55 a.m. and lands in Los Angeles at 1:55 p.m.
In announcing the new service, Emirates noted that its existing Dubai-LAX service provides $677 million in annual economic benefit to L.A. and the surrounding area, contributes over $270 million in annual spending by visitors, and helps to support nearly 6,000 U.S jobs.
The additional service to LAX not only doubles the airline's capacity to meet visitor demand, said Hubert Frach, Emirates Divisional Senior Vice President, Commercial Operations, West, in a statement, "but also increases our positive economic impact to the Los Angeles area."
Hawaiian Airlines begins increased service between Los Angeles and Hawaii's popular Garden Island today.
The number of visitors — and the amount they spend — has been steadily rising on Kauai, Hawaii's fourth largest and northernmost island, so Hawaiian Airlines is increasing its direct service from Los Angeles to Lihue Airport, on the southeast coast of the island.
Beginning today, Hawaiian Airlines will begin operating three weekly flights between LAX and LIH airports, which marks the first time the carrier has offered direct service to the island outside of its seasonal schedule. The service increases to four times daily for a short period in May and, during the summer, the service will be offered daily.
In the past the airline offered five flights a week between and LAX and LIH during the winter holiday season, but stopped that service in early January.
From May 27 to June 14, as the peak summer travel season begins, Hawaiian will increase service between Los Angeles and Kauai to four times a week and, from mid-June to September, flights between Los Angeles and Kauai will be offered daily.
Hawaiian flights to Lihue will be operated on the airline's Boeing 767-300ER aircraft, which seats 264 passengers, with 18 in first class and 246 in the main cabin.
For the three times a week service beginning today, Flight HA63 will leave LAX on Saturdays, Sundays and Mondays at 7:40 a.m. and arrive in LIH at 11:45 a.m. Flight HA64 will leave Lihue at 1:15 p.m. on Fridays, Saturday and Sundays and arrive at LAX at 8:55 p.m.
Between May 27 and June 12, 2016, flights will increase to four times a week. HA63 will leave LAX on Monday, Wednesday, Friday and Saturday at 8 a.m. and land in Kauai at 11 a.m. The return flight will operate Tuesday, Thursday, Friday and Sunday, leaving Kauai at 2:30 p.m. and arriving at LAX at 11:05 p.m.
The service will operate daily beginning June 15 until at least Sept. 5, 2016.
A FareCompare.com search for non-stop flights between Los Angles and Kaui shows that American, Delta and United also serve this route, with Alaska Airlines offering non-stop flights via a codeshare with American.
Harriet Baskas is a Seattle-based airports and aviation writer and USA TODAY Travel's "At the Airport" columnist. She occasionally contributes to Ben Mutzabaugh's Today in the Sky blog. Follow her at twitter.com/hbaskas.