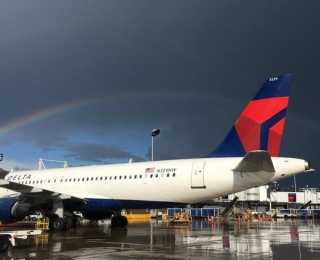 Delta Air Lines and joint venture partner Virgin Australia plan to launch nonstop service between Melbourne and Los Angeles International Airport next year.
Beginning April 4, Virgin Australia will fly five times weekly between Melbourne and Los Angeles using Boeing 777-300ER aircraft.
Delta(NYSE: DAL) said the new flight complements existing service offered by Delta and Virgin Australia. The carriers currently fly twice daily from Los Angeles to Sydney and daily from Los Angeles to Brisbane.
The new flights between LAX and Melbourne will include a Melbourne to Los Angeles route on Mondays, Tuesdays, Thursdays, Saturdays and Sundays and a Los Angeles to Melbourne route on Tuesdays, Thursdays, Fridays, Saturdays and Sundays.
"The United States is a key market for Virgin Australia, and this enables us to offer direct services from Los Angeles to the three largest cities in Australia — Brisbane, Melbourne and Sydney," said Virgin Australia Group Chief Executive John Borghetti.
With the new Melbourne-LAX route, Delta and Virgin Australia together will offer 25 weekly flights between Australia and the United States and round-trip connectivity from 230 destinations in the Americas to 49 destinations in Australia and New Zealand.
Delta has been the fastest-growing carrier at LAX since 2009 and will embark next year on a relocation to Terminals 2 and 3, enabling operation alongside Virgin Australia and many of its other airline partners. The airline said its $1.9 billion plan to upgrade and connect the complex at Terminals 2 and 3 will improve check-in and connection times for its customers.