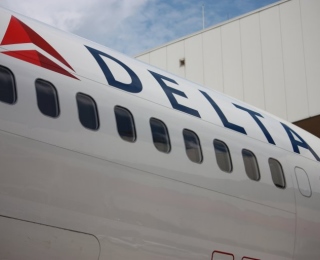 Delta Air Lines passengers traveling from the East Coast of the United States to Asia will soon have another travel option as Delta Air Lines has announced expanded service between its headquarters and busiest hub in Atlanta and Seoul, South Korea.
Nasdaq reports that Delta Air Lines will launch the Seoul service on June 3, 2017, with a daily non-stop between Atlanta and Seoul's Incheon International Airport, South Korea's primary international airport.
"The carrier intends to strengthen its Asian presence through the introduction of these daily flights," Nasdaq reported. "Delta will utilize a 291-seat, Boeing 777-200LR aircraft for operating the flights between the two cities."
In addition to the new service between Atlanta and Seoul, The Dallas Morning News reported that Delta Air Lines and Korean Air, the busiest carrier in South Korea, will be expanding a codeshare agreement between the airlines.
According to the Morning News, the relationship between Delta Air Lines and Korean Air has not been the warmest in recent years, but the codeshare expansion and increased service from Delta's Atlanta hub to Korean's Seoul hub shows a thawing in the relationship.
"The two carriers were founding members of the SkyTeam alliance in 2000. But that relationship started to fray after Delta reportedly pushed for — and Korean rejected — a joint venture agreement across the Pacific Ocean," the Morning News reported. "In such a deal, airlines share revenue and work together on pricing for a set of flights. (United Airlines has a joint venture with Japanese carrier All Nippon Airways, and American Airlines has such a partnership with Japan Airlines.)"
The change of heart for Delta Air Lines towards Korean Air is part of a change in strategy for Delta operations across the Asian continent, the Morning News suggests.
"Just last month, it eliminated several more routes to Tokyo's Narita International Airport, a sign that it is starting to dismantle that hub.
"Delta still talks about its partnership with China Eastern, but a renewed agreement with Korean could provide its passengers with quicker access to secondary cities within Asia and let them avoid China's notorious air traffic delays."
While the Delta Air Lines partnership with Korean Air is expected to strengthen the airlines' hubs in Atlanta and Seoul, Delta is also focused on growing business at its newest hub at Seattle-Tacoma International Airport in the Pacific Northwest. The hub has become a non-stop destination for many transpacific flights and it has also started to see far more domestic traffic.
As a result of the growing hub at Seattle, the Delta Air Lines is now locked in a battle with Alaska Air, the other airline with hub operations out of Seattle. The battle for marketshare in the region has become so intense that Dealta is partnering with local sports teams to offer bonus miles and other perks to customers, according to USA Today.
"During the 2016 football season, 12status members will be eligible for prizes and automatically receive one mile for each passing yard at Seahawks home games and 500 bonus miles for every 12,000 people who sign up for program. Each new SkyMiles member will also get 1,200 bonus miles.
"And, in a fun twist, when the Seahawks play the Los Angeles Rams on Dec. 15 in Seattle, 12status members will get 1,200 bonus miles if the roar of the crowd is loud enough to cause five false start penalties against the visiting team."
Delta Air Lines has long been a partner of Alaska in terms of codeshares, though Alaska is not part of the SkyTeam alliance. If the companies continue to compete for marketshare, it begs the question of whether the Delta-Alaska partnership will grow cold in coming months and years.