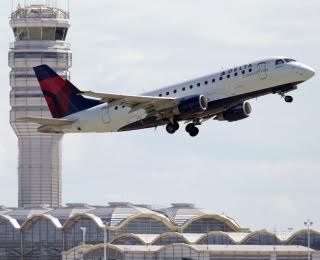 Delta Air Lines Inc. will add daily nonstop service from Los Angeles International Airport to Ronald Reagan Washington National Airport starting April 24, 2017.
With the service, Atlanta-based Delta will be the only airline to offer full flat-bed seats in First Class on this route frequented by customers in government, defense, entertainment and consulting services.
"We're pleased that Delta's growth and investment on the West Coast has created an opportunity to provide new direct service to and from Washington-Reagan," said Ranjan Goswami, Delta vice president of sales for the West Region. "We also know that for Delta customers in L.A. and D.C., 'how' you get there is important, too. As the only airline to offer full flat-bed seats between these markets, our customers will arrive rested and productive – and it's that premium distinction in the customer experience that differentiates Delta."
Delta has 54 peak-day flights to 11 destinations from Washington-Reagan. Because of Washington-Reagan's perimeter rule, only 20 roundtrip flights beyond 1,250 nautical miles are made available to commercial carriers. To provide service to the West Coast, Delta will reallocate one of its two "beyond-perimeter" roundtrip flights from Salt Lake City to Los Angeles. At the same time, the airline will begin service from Washington-Dulles to Salt Lake City, maintaining the number of total seats Delta offers between the D.C. area and Salt Lake City.