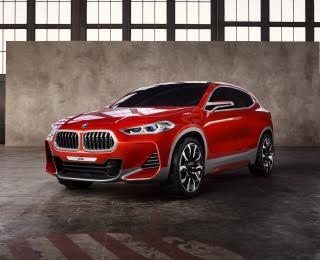 BMW, the carmaker that tries to abide by its "Sheer Driving Pleasure" as much as it can, didn't keep its promise with the F48 X1. That's due to the platform of the second-generation compact crossover, which is FWD by nature. But in spite of it all, the entry-level X car continues to sell like there's no tomorrow.
Be that as it may, the most affordable sports activity vehicle from the Bavarian carmaker is missing something. That's a coupe-like brother with an even number in its name. Cue the F39 X2, previewed today at the 2016 Paris Motor Show by a concept. Question: what's wrong with this set of live pictures? Indeed, that's a fancy mock-up, not a functional prototype.
Fret not, though, because the production-ready F39 X2 won't differ too much from what BMW has brought to Paris. Another question: how is the Concept X2 different from other BMW coupe crossovers? The roof, as you can see from the adjacent pics, isn't as sloped as the X4 and X6. What the X2 loses in sexiness, however, gains in terms of headroom and practicality.
Similar to the X3 and X4, the wheelbase will be shared between the X1 and X2. More to the point, 2,760 millimeters or 108.6 inches will have to do. Unfortunately for us people, the uninspired interior design of the X1 will be carried over by the X2. To be offered in front- and xDrive forms, the 2017 BMW X2 will also mirror the engine options that are currently available for the X1. For the entry-level X2 sDrive16d, a three-cylinder turbo borrowed from the MINI will have to suffice. Higher up the range, the X2 xDrive25i will boast 231 PS (228 hp) and 350 Nm (258 lb-ft) of torque from a 2.0-liter engine.
"The BMW Concept X2 combines the fast-moving body language and low-slung proportions of a coupe with the robust construction of an X model. This is a sporty vehicle with a bold character, and it allows us to open up some fascinating new design possibilities for the BMW brand," explains Karim Habib, the head of BMW Design. On that note, expect the BMW F39 X2 compact crossover to debut in production-ready form in 2017.