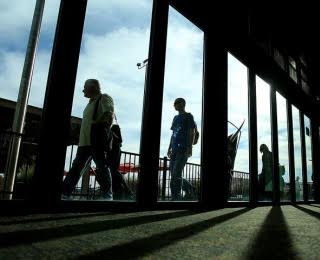 Sonoma County's airport is getting another major boost to its expansion efforts with the world's largest airline announcing plans Monday to begin daily, nonstop service to Phoenix starting in February.
American Airlines will become the second major carrier offering daily service at Charles M. Schulz-Sonoma County Airport, which on Sept. 15 received county approval to finance a $20 million project more than doubling the size of the terminal, as well as parking spaces at the west end of Airport Boulevard.
Phoenix isn't Denver or Salt Lake City, the two hubs most prized by airport officials and by many local travelers. But as its name implies, Phoenix-Sky Harbor International Airport is a major spoke, one that streamlines connections to farther-flung destinations.
"It's not a home run like Denver, but it's close," airport manager Jon Stout said Monday at the airport, where red, white and blue balloons reflecting American's corporate colors festooned the passenger waiting area. "It gives us that hub, and it gives us that airline."
The Phoenix airport schedules more than 300 daily flights to 75 destinations, including Mexico and Canada.
American's Phoenix service will begin Feb. 16 with a new, or close to it, Bombardier CRJ-700 jet, said Joe Hughes, the airline's regional director of government affairs. He said the aircraft seats up to 70 passengers in first or economy class and will include "all the bells and whistles," including onboard Wi-Fi.
"It's not a vomit comet," he said.
The short flights initially are planned to arrive in Sonoma County at 3:42 p.m. and depart daily at 4:12 p.m.
American's website on Monday advertised one-way fares of $538 for the flights, significantly higher than most competitors flying to Phoenix from other regional airports.
American later Monday issued a statement referencing challenges getting the pricing for the Sonoma flight "just right" and apologizing for what it referred to as a delay in the online booking process. The fares displayed on AA.com Monday reflected fully-refundable tickets, which typically cost more to book.
Hughes advised travelers to wait a few days before booking. However, he could not ballpark what fares to Phoenix ultimately will be, nor say how they will compare with other regional carriers. He instead trumpeted the convenience of flying direct to the Phoenix airport.
Stout said he and American are still negotiating the terms of an operating agreement for the airline's use of the Sonoma County airport. He said his preference is for a five-year deal, with an option for either party to bail out with advance notice.
The airport is facing a January deadline to use a $650,000 U.S. Department of Transportation grant intended to underwrite the costs of a new airline service. Stout said he's working on getting that deadline extended another year.
American would be able to use up to $525,000 of the grant to offset losses over the first six months of operations in Sonoma County, Stout said. The rest of the money would go toward marketing the new service.
American's flights will be operated by Skywest Airlines as American Eagle.
Stout said the addition of American caps about a decade's worth of discussions that began with US Airways, prior to its merger with American. US Airways balked at adding the Phoenix service over concerns Sonoma's main runway was too short to accommodate regional jets. The runway was expanded in 2014 to 6,000 feet.
Stout said the new service will not compete with Allegiant Airlines, a low-cost carrier that began offering Thursday and Sunday flights from Sonoma County to Phoenix-Mesa Gateway Airport in May. That airport is about 20 miles outside Phoenix. Stout said Allegiant's service is geared more toward leisure travelers.
Allegiant also offers flights to McCarran International Airport in Las Vegas from Sonoma County.
The county-owned airport, currently served by Alaska Airlines with seven daily flights and Allegiant Airlines with four weekly flights, is on its way to a record of 320,000 passengers this year, breaking the previous record of 263,142 passengers last year and nearly triple the 109,082 passengers in 2007, the year Alaska started local service.
Stout said the airport's primary goal remains securing an eastward connection to an air traffic hub, such as Denver, enabling passengers to connect with flights to the rest of the country.
The airport also has had talks with Mexican airline officials about adding service to Guadalajara. Stout said there's been no recent development in those plans.
You can reach Staff Writer Derek Moore at 707-521-5336 or derek.moore@pressdemocrat.com. On Twitter @deadlinederek.