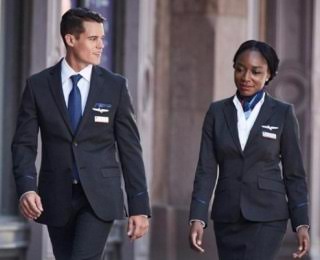 Fort Worth-based American Airlines (NYSE: AAL) is setting up a call center to field complaints about new uniforms that tens of thousands of flight attendants and other AA employees began wearing Sept. 20. The complaints have included reports of hives, headaches, swelling around the eyes and itching that many, including some 700 or more AA flight attendants, believe are related to the new uniforms.
The garments were manufactured by uniform supplier Twin Hill (a unit of Men's Wearhouse) in as many as six different countries.
Many of the reports of symptoms have come from flight attendants. The Association of Professional Flight Attendants (APFA), which represents 25,500 AA flight attendants, met with American management about the matter on Tuesday. Sources characterized the talks as "productive."
In the wake of that meeting, American Airlines management said it will set up the call center. If flight attendants contact the call center, they will be told of four options they have if there are problems with the new uniforms. They can continue to wear the new uniforms, or they can return to wearing their old uniforms until concerns about the uniforms are resolved. A third option for the attendants is to purchase charcoal grey pants and a white shirt on their own if their old uniforms already have been discarded, while a fourth option is to obtain second-hand old uniforms turned in by other flight attendants.
AA management also has agreed to send out the new uniforms for further testing to a facility of APFA's choosing. APFA plans to carry out its own testing, independent of AA's further testing, as well.
APFA union leadership has not publicly addressed the matter since acknowledging last week that the union had received hundreds of complaints about the uniforms. The APFA board of directors has been in a meeting this week that is expected to end on Friday, at which time union leaders could address the matter of the uniforms and what is being done.