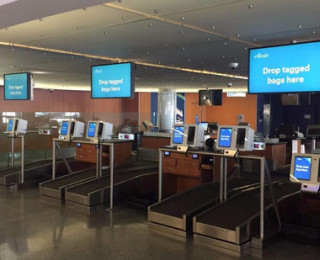 Alaska Airlines has gained a reputation for being willing to test new technology on its passengers.
The Seattle-based carrier tried adding solar panels to power its passenger ramps in 2013. The airline tested out fingerprint machines to identify passengers at its airport lounges in 2014 and launched electronic, reusable bag tags on a trial basis last year.
Now Alaska is experimenting with a system at Los Angeles International Airport that lets passengers tag their own bags and leave them at an automated station.
Under the trial program that started last week, Alaska passengers can print bag tags at home or at an airport kiosk. Once the tags are affixed to the luggage, the passengers take them to self-drop stations.
The idea has already been used by airlines in Europe and Asia."We try to be nimble," said Bobbie Egan, a spokeswoman for Alaska.Alaska claims the drop-off process takes less than 30 seconds. The trial will continue until Nov. 10.
Why is Alaska testing the new system at LAX?"The self-bag drop model works best at high-volume airports where road warriors are tech savvy and willing to try a new pilot like this," she said. "The design of the check-in area at LAX in particular was better suited for the equipment and passenger flow than in Seattle, for example."
Alaska also is aiming to be California's go-to airline, now that Alaska has acquired Burlingame-based Virgin America.