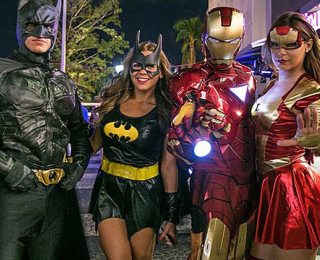 For seven years, Hard's Halloween-themed electronic dance music festival has been one of the more popular and anticipated raves in Southern California.
But organizers abruptly announced that the event would not occur this year. The move comes seven weeks after three young adults died after attending the Hard Summer music festival in San Bernardino County and growing scrutiny over the safety of such events.
A spokeswoman for Hard, which is owned by concert giant Live Nation, said they decided not to go forward with Hard Day of the Dead because of logistical issues. When asked whether the move was influenced by the three deaths, Alexandra Greenberg declined to comment.
But within the rave world, some observers said Hard could be having trouble finding a venue because three key facilities that used to host raves no longer do. The Los Angeles Sports Arena has been demolished, and the L.A. Memorial Coliseum and L.A. County fairgrounds have stopped booking the events following more overdose deaths.
There have been at least 25 confirmed drug-related deaths nationwide since 2006 among people who went to raves organized by Los Angeles-area companies. Twelve have died in Southern California — four in San Bernardino County and eight in L.A. County — and six in the Las Vegas area.
Two young women died of drug overdoses after they were transported from Hard's summer event in 2015; another died in 2014. Coroner's officials have not yet determined the cause of death of the three who died this summer.
Greg Wasik, editor of the website EDM Life, said the lack of big venues willing to host raves is causing problems for the industry in Southern California.
"Where else can you do it?" Wasik said. "It could be either [scheduling] conflicts or a hesitation on the people that control the venues to allow an event like that."
Fans of electronic dance music mourned the news, which popped up on social media and blogs in recent days. A writer for the website Dancing Astronaut lamented Hard's "nomadic situation" and "devastating obstacles." The website Your EDM said fans of the rave would scramble to find alternative Halloween plans.
Greenberg said the firm decided earlier this year that it would be too difficult to have a summer rave at one new location — the Auto Club Speedway near Fontana — and find another venue for the Halloween event. Last year, both were at the Los Angeles County fairgrounds in Pomona.