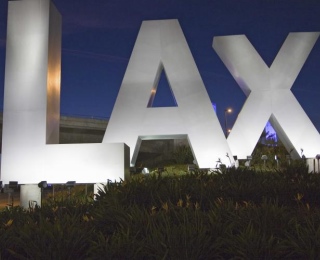 Navigating LAX can require monk levels of patience, but it doesn't have to be that way. These tips should help.
Hack #1: Tuesday and Wednesday are generally the quietest days of the week. Expert level move: fly during the slower periods of 11 a.m.-2 p.m. and after 7 p.m.
Hack #2: If you're going to pick someone up, wait in the cell phone waiting lot (which is free) on the corner of 96th street and LAX Airport/Vicksburg Avenue.
Hack #3: When entering the arrivals area, use the between-terminal shortcuts. Upon entry, stay in the far left lane to cut across the airport.
Hack #4: If you live near one of its terminals, use the cheap and reliable Flyaway Bus.
Hack #5: Time to kill before your flight? Check out other terminals and their potentially superior food options.
Terminal 1: Ease the pain of a delayed flight with a giant Bavarian pretzel and a selection of 20+ beers at Rock & Brews.
Terminal 2: DIY your lunch at Built Custom Burger, the airport edition of the popular burger spot The Counter.
Terminal 3: Options are sparse, but there are fish tacos at Gladstone's 4 Fish—the airport outpost of the Pacific Palisades favorite.
Terminal 4: Always wonderful Dunkin' Donuts is located right by Gate 45. If you're craving a more classic L.A. selection, grab a French dip from Cole's.
Terminal 5: Now has a Lemonade and its many salads. Terminal 6: Order a burrata salad and waygu beef meatballs at Osteria.
Terminal 7: Can't go wrong with the casual eatery bld.
Terminal 8: Classic bar food isn't groundbreaking, but Engine Co. No 28 is noteworthy for its full service bar. And who doesn't need an Irish coffee after standing in security for 20 minutes?
Tom Brady International Terminal (Best LAX Food Scene): Grab a pork butt bahn mi at Michael Voltaggio's ink.sack, Neapolitan crust pizza at 800 Degrees or bellinis and champagne from caviar purveyor Petrossian.
A valid boarding pass gets you into any terminal, and taking the tunnel from Terminal 4 to Terminal 8 will save you from another TSA checkpoint. Take LAX's free "A Route" shuttle to get around the airport faster. Use RideLAX to monitor the shuttle's location in real-time.
Hack #6: If you're a frequent international traveler, consider applying for Global Entry. $100 gets you five years of TSA Pre-Check plus the ability to bypass customs (and paperwork) at most major U.S. airports when you return home. Some credit cards cover the cost of enrollment as a benefit. You can apply at the Tom Bradley International Terminal.
Hack #7: Traveling with a pet? Check out this map of newly updated animal relief areas for potty breaks before and after security.
Hack #8: Like many Angelenos, LAX is in the middle of getting a little work done. Check lane closures and more info online at laxishappening.com.
Hack #9: If LAX just doesn't do it for you, try Burbank or Long Beach. Sure, the flight options are more limited, but the crowds are smaller, and it's more peaceful.