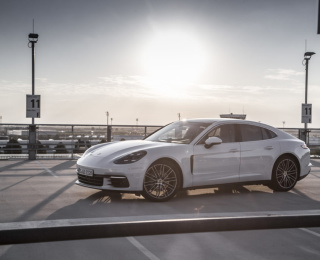 SHORTLY BEFORE DRIVING the all new second-generation Porsche Panamera sedan, I spent a little time hammering a 911 Carrera 4S on the serpentine roads outside Munich. The 911 is fantastic, in all the ways you expect a Porsche to be.
Much later that same day, long after I'd transitioned to the Panamera and was similarly tearing up mountain roads near the Austain border, it took another 911 passing me in the opposite direction to remind me that I'd indeed ditched the 911. That's how good the family hauler is: Despite conditioning my brain to the handling and responsiveness of a razor-sharp sports car, I barely registered the change after climbing into a far larger, heavier car hauling two passengers, luggage, and a mountain of camera gear.
Say what you will about the shape, but the re-engineered, $98,300 2017 Panamera—with its enhanced balance, sportier roofline, and liposuctioned backside—deserves your respect. It is as capable on a track as it is in traffic and as luxurious as a day at the spa. But then, for 100 grand, it ought to be.
The Panamera has always been … divisive. When Porsche debuted it seven years ago, critics body-shamed its bulbous derriere and cynics denounced the very idea of family-friendly four-door car from Stuttgart as unporschemanlike. Some went so far as to accuse Porsche of diluting its brand. The Germans ignored the naysayers, and history has vindicated them. The Panamera, along with the Cayenne and Macan SUVs (don't even get the purists started on those), made truckloads of money. Porsche has enjoyed record sales in the US for four years straight.
Everything about the 2017 version of the Panamera is better, including the styling. "There are new engines, a new chassis, and new electronics, and everything conspires to make it much sportier, but still very much a luxury sedan," says Gernot Döllner, Porsche's head of product design. Yes, you'd expect him to say that. But he's right.
Let's start with the styling, because everyone does. It isn't gorgeous, but it's no longer ugly. It's got the same basic long, low outline, but with a significantly less bulbous rear end. It's borrowed sporty styling cues from Porsche stalwarts like the 991, 718 Boxter, and Cayman. The roofline takes a more direct route to the taillights. It's all far tidier and more streamlined.
Those taillights, by the way, are all most people will see if you stand on the gas. The base model Panamera 4S has a twin-turbo V6 good for 440 horsepower. Spend another 47 grand for the Panamera Turbo (yes, both have turbos, just go with it) and you get a twin-turbo with 550 horsepower. The extra 110 ponies is the difference between a top speed of 182 or 190 and a zero to 60 sprint of 4.4 seconds or 3.8.
Either way, the Panamera is crazy stupid fast for a car that weighs 4,400 pounds. Both cars use an eight-speed dual-clutch transmission with glass-smooth shifts. The gearbox offers a great blend of performance in the low gears and efficiency in seventh and eighth. If all that speed still isn't enough, drop another $6,930 for the Sport Chrono package—which includes launch control and a push-to-pass button for a little more oomph—and shave another two-tenths of your zero to 60 time. That puts you in 911 territory, in a car you can take to Costco.
This being a luxury grand-tourer, the Panamera hits all the right comfort and convenience notes. Lots of leather, an audiophile-level stereo system, knobs and switches that feel like they're milled from ingots. There's enough headroom for professional basketball players and all their stuff, and four giant screens with touch-sensitive controls. And the car connects to your Apple Watch and doubles as a Wi-Fi hotspot, because it is 2016 and of course it would be for six-figures.
There's more tech under the metal. A thermal imaging camera spotlights pedestrians and animals. The adaptive cruise control system, InnoDrive, uses navigation data like upcoming curves and inclines to dial in the optimal acceleration, deceleration, and gear selection, for a smoother, more efficient ride. Dual radar sensors and a camera permit lane-centering and automatic distance control, a boon in stop-and-go traffic.
Ride quality is a hallmark of luxury cars, so the Panamera's three-chamber air suspension generates a suitably sublime, if not whisper-quiet, ride in comfort mode. When you want to channel Romain Dumas, Porsche's new "4D Chassis Control system" analyzes road conditions and your current driving style to tune the steering, torque vectoring, and suspension accordingly.